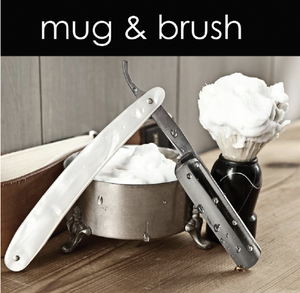 Mug & Brush is our homage to an old-time barbershop: tingly aftershave and musk, with the warmth of leather and wood.  
For a slightly different take on the barbershop that plays up the fresh and clean aftershave notes, try Straight Razor.  
Our 2 oz Aromatic Mists are perfect for scenting your home, car, office, hotel rooms, and even your skin. Take your favorite fragrance with you wherever you go!